The Sew Crafty Blog
Page 1 of 2
Someone is celebrating their 9th birthday at Sew Crafty!
A super duper big time Happy Birthday to Alice, shown here with her adorable puppy - see you at Sew Crafty to make some awesome animals!
4 Comments
I have a cold. I'm that lady on the commercial who has the sniffly-sneezy-coughy-sore-throat-headache problem before she gets to the so-you-can-rest part. The worst part: for days before I realized I was sick I thought I developed adult onset ADHD. I had energy, but no focus. I had thoughts, but no articulate expression of them. Then came the sore throat. Bleh.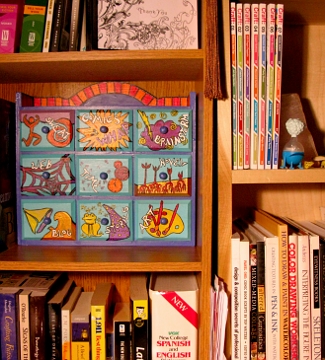 Anywho, enough of the world's longest non-sequitur: check out this aptly named ADHD box for an organization solution for those who are not so naturally organized!
1 Comments
Are you crafty? Do you live and die DIY? Is so, you could use your mad craft skills as an arts and crafts club leader for YES Prep North Central charter school. Clubs take place from 2:30-4:30 every Wednesday and leaders are paid $50 a week. YES Prep north central served students in grades 6th-11th, and is located at 13703 Aldine Westfield. If interested, please email Jayn Walter at jwalter (at) yesprep.org (to protect Jayn from the spam bots, I left out the @ and added spaces)

0 Comments
It's 2009! The birds are chirping, the wind is whistling, Houston is an Arctic 50 degrees - and Sew Crafty is looking for a new Craft Assistant! Our beloved Melissa I. will still be teaching and hanging out, but will be going full-time with a new position. We're sad to see her go, but happy that she gets to do something she has always wanted to do! Have fun super lady!
That's where you come in. We need another crackerjack peep to fill those big shoes Melissa I. left - think you're up to the challenge? Email us at info @ sewcraftyhouston.com! (spaces added to trick the mail bots)
PS: That's me with Bill Murray at Maker Faire. Except it's not really me with BM - it's a super photovoodo thing that Culture Pilot did. Because they're awesome, that's why.
1 Comments